As the weather begins to cool, Jones County comes alive. Outdoor events, plenty of shopping, a fair 100 years in the making, and so much more take place in beautiful Laurel & Ellisville, Mississippi. Simply put, fall and winter in Jones County are magical times, and we're sharing seven reasons you need to be here!
#1 All of the Arts
It's easy to find beautiful art on display in Jones County all year long, but this fall, the Lauren Rogers Museum of Art & the Jones College Eula Bass Lewis Art Gallery seem to have outdone themselves. From Masonite on display (spoiler alert: this popular material from the 20th Century was invented right here in Laurel) to an Arts Festival that is out of this world, it's easy to immerse yourself in the arts during your visit to Jones County!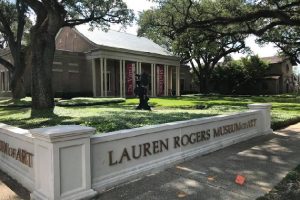 Lauren Rogers Museum of Art's Upcoming Exhibits & Events
What Lies Beneath: Masonite and American Art of the 20th Century
Music of the Middle Ages Concert
Jones College Eula Bass Lewis Art Gallery's Upcoming Exhibits
Allen Chen Sculpture Exhibit – Allen Chen, associate professor of art at the University of Southern Mississippi, uses his artform to, "…explore the possible experiences shared in an object when it's interpreted as sculpture." Don't miss this unique exhibit at Jones College Eula Bass Lewis Art Gallery through October 25, 2019.
#2 Halloween Hijinx!
Ghosts, goblins and spooky fun can be found in Jones County in the days leading up to Halloween. Decorated houses and special events offer lots of options. Treats in the Streets at Jones College is a free family event with booths, games, costume contests and plenty of treats for the under 12 crowd. Trick or Treating in the Avenues on Halloween in downtown Laurel has quickly turned into a "must do" for locals. The neighborhoods deck out in their ghoulish finery to make this one of those true memory making evenings.
#3 Football
In the South, claiming loyalty to a football team is akin to breathing, but when you're in Jones County, the choice is easy! The Jones College football team playing at their home stadium in Ellisville is an event you don't want to miss. Check out the full schedule to see the Bobcats dominate on game day!
#4 Cotton Gin Market at Rasberry Greene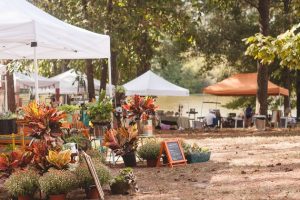 At The Cotton Gin Market, vendors from all over Mississippi and the South come together deep in the Piney Woods for a showcase of curated craftsmen, artisans, makers, purveyors of vintage and antique goods, delicious southern food and the sounds of South Mississippi.
Rasberry Greene is an event venue located a few miles outside Soso. Market takes place on October 26, 2019, and the hours are 9:00 a.m. – 4:00 p.m.
#5 Wine Down
Wine Down Downtown is a wine tasting and shopping event which takes place on select Fridays from 5:00 p.m. – 8:00 p.m. with downtown merchants and restaurants staying open late.  Purchase a wine tumbler and receive 2-ounce pours from participating restaurants and vendors. Sip and shop your way through Downtown Laurel. Did we just describe the perfect Friday night?
Remaining 2019 dates include November 22, and December 20.
#6 100th South Mississippi Fair
One of the largest fairs in the state, the South Mississippi Fair is nine fun-filled days of rides, concerts, exhibits and shows. In its 100th year in 2019, there's more fun happening than ever! Enjoy concerts in the Magnolia Center which include acts such as Mark Farner's American Band, Champaign Jam, Sawyer Brown, and more! See fair favorites including Pirate Man Dan, Robocars, Disc Connected K-9s, plus the Art Show, Livestock Show, Pie Baking Contests, and Arts & Crafts.
General admission is $5. Children under 48" tall are free. Parking is free.
#7 Get Happy & Merry
Landrum's 36th annual Christmas at the Homestead is an old-fashioned Christmas celebration and a merry step back in time. Grab the family to see hand-made craft vendors, Civil War re-enactments, farm animals, gem mining, and live entertainment. Stop by the General Store to listen to Bobby Hathorn pickin' his banjo, grab some kettle corn, and take a wagon ride through the beautiful nature trails. The thousands of twinkling Christmas lights are sure to bring you holiday cheer!
But Christmas fun doesn't stop there. Laurel & Ellisville are known for having a holly jolly good time all December long. Start by watching the tree twinkle to life at the Christmas Tree Lighting in Downtown Laurel on December 5th.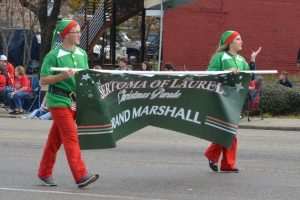 Get into the holiday spirit when you experience A Jingle Jazz Christmas Concert (December 6) and the Concert Choir Christmas Concert (December 5 & 6) both hosted by the Jones College of Fine Art.
What's more fun than pancakes and parades (we certainly can't think of much)? The famed Kiwanis Pancake Day starts the morning of December 7th and the Christmas Parades in Laurel & Ellisville take place later the same day. It's sure to be a merry day in Mississippi!
Want more information on fall events and things to do in Jones County, Mississippi? Be sure to check out the events calendar at VisitJones.com for fall and holiday small town fun.