Many call it quaint and charming. Countless call it welcoming and Southern. The luckiest of us call it Home.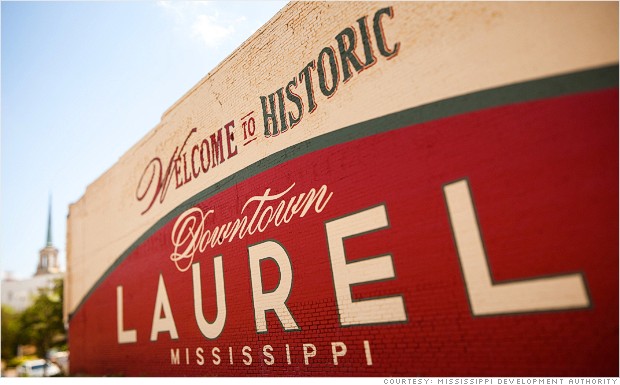 Small Town, Big Charm
Hometown. It's a word meant to describe the setting of someone's childhood, but in Jones County, it's so much more than that. Sharing our little corner of the South with the world gives us the opportunity to do what we love most: welcome people with open arms and an abundant serving of Southern hospitality. The quintessential small town that you read about when you were little? That's Laurel, Mississippi.
You Can Count on a Smile
Jones County, in all of its Hallmark-movie, Stars Hollow-esque glory is so much more than just a town. It's hearty helpings of comfort food. It's a stroll through the oak-lined streets to discover a coffee shop, a sweet boutique, or a cozy park. It's being greeted by kind, thoughtful, and generous people who are truly happy you're here. Whether you're grabbing a burger at the PDI-Phillips Drive-In, picking up a gift (and ok, one too many souvenirs) at the Laurel Mercantile, looking for a trade at the swap meet at Hellfighters USA, or you're grabbing some treasures from days gone by at our antique stores, you're guaranteed one thing:  to be greeted with a smile and treated like family. Why is that, you ask?
It's because people in Jones County have an enviable desire to be connected with the community. To pull up a chair next to their neighbor at the YWCO on Pancake Day. To take part in the smiles of little ones as they bounce from house to house on Halloween.  To laugh with neighbors and old friends while setting up tailgating chairs and picnic blankets during Fourth of July fireworks, Downtown Movie Nights, & New Year's Eve Countdown parties. To take in each season together as a community – as a family. And whether you're here for a day trip, a long visit, or permanently, you're part of that family.
Hometown & Home Town
If anyone has exemplified what it means to truly love a place, it's Erin and Ben Napier through their show HGTV's Home Town. Laurel is experiencing a renaissance of sorts, and much of the credit is owed to them. Their love of our town and their desire to make it the best it can be – to truly live up to its potential – is contagious (it doesn't hurt that their charisma and sweet chemistry is inarguably craveable). They're introducing Laurel and Jones County as home of the most friendly, welcoming people, and we're so glad they are because nothing could be truer. We're here to share our stories (because we've got plenty of those), our history, our quaint downtown, and more.
Welcome to our hometown, and even if you're only in town for a short stay, we hope you'll think of it as yours.
And we know what you're thinking, "yeah, yeah cue the Cheers theme song." But here, it's absolutely true. Just ask anyone on the street (because they're sure to be happy to stop for a chat), and they'll tell you the same. For more information about visiting Laurel & Jones County, explore TheNewStateofJones.com or follow along on Facebook or Instagram.  Be sure to catch Season 4 of HGTV's Home Town premiering in January 2020.