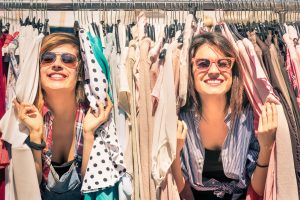 Shopping in Laurel and Jones County, Mississippi is more than just strolling through one street with a few shops. It's a veritable shopping mecca of various districts filled with antique shops, trendy boutiques, eclectic gift shops, name brand stores, and so much more! Get ready to shop 'til you drop when you visit Laurel and Jones County!
Laurel, Mississippi: Small Town, Big Shopping
Downtown Laurel and 16th Avenue are truly a shopper's delight! We just hope you left room in your suitcase for all of the home furnishings and accessories, wardrobe staples for every season, and antiques galore!
Souvenirs are bountiful at shops such as HAND+made, Cotton Boll, Frames Unlimited, Bella Bella, and many more! Find tea towels, Laurel-themed tchotchkes, t-shirts, stationary, seasonal décor, art for your walls, and so much more.  Books make a great gift (and gift to yourself), so be sure to swing by Bookstore in the Window to nab the title you've been wanting to add to your TBR pile.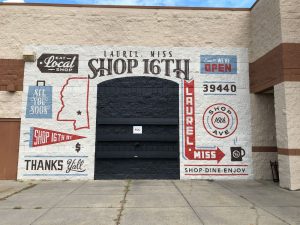 To furnish your home in classic and Southern style, shop for furniture and home décor at Lott Furniture, J Parker Reclaimed, Rubie's Home Furnishings, and Today's Furniture. From large buffets, couches, and your dream dining room table to smaller items such as tabletop décor, flatware and dishes, lighting, and anything else your home may need.
Looking for on trend clothing and accessories? Fill your closet with classic and trendy pieces from  Poppy's Boutique, Allie's on Magnolia Boutique, Leila Boutique, The Boutique on Central, The Spotted Dog, plus Guild and Gentry and Bella Bella for menswear and so many more!
Always popular for shoppers in Jones County, antiques abound! Start your search at Peddlers' Junktion, Southern Antiques, and The Rusty Chandelier. Unique pieces are sure to please the antique-lover in your group!
Of course, Scotsman General Store and Laurel Mercantile Co. are must-stops for fans of HGTV's Home Town. Be sure to check out our list of must-see places to complete your HGTV's Home Town experience.
Shop Local in Ellisville, Mississippi
Downtown Ellisville is a collector's paradise, a souvenir-seekers must see, and every trendy fashionista's one stop spot for clothing and accessories!
Carol's Marketplace is a great place to grab some locally-grown fare to bring back to your table at home. From muscadines to fresh-shelled peas, gathering your souvenirs on your dining table back is home sure to bring back Mississippi memories!
Carpenter Brothers Emporium of Wonderful Whatnots features antiques, collectibles, and – well – whatnots! Whether you're a collector or a browser, you're sure to find something to make you smile at Carpenter Brothers.
For cute clothes, be sure to swing by Southern Sass Too, which features trendy styles sizes small-3XL! Grab a cute romper, dress, top, jewelry, and more!
Even More Shopping at Sawmill Square Mall
Indoor shopping, playing, and dining fun is the name of the game at Sawmill Square Mall in Laurel.
Find national brands like Bath & Body Works, The Children's Place, rue21, Claire's Boutique, Belk, Foot Locker, and many others! Local favorites such as Pretty Please! Children's Boutique, It's What a Girl Wants, and Pink Anchor are sure to please as well.
Meanwhile, when hunger strikes, grab a bite from Chick-Fil-A, The Alamo, Classic Cookie, Corndog 7, Estelle's Southern Cuisine, or Tacos!
The shopping fun continues outside of the mall as well with surrounding shops including Razmes Party Supplies, Goodness Gracious, Quarter Century, and more!
For more ideas on where to shop when you visit Laurel and Jones County, Mississippi, be sure to check out our full list of stores.