Whether you're virtual schooling, homeschooling, or just looking for an educational road trip, Laurel and Jones County is ready for your little learners! From history to art, these fun and informative activities are sure to entertain your whole family!
Landrum's Homestead & Village
History comes to life at Landrum's Homestead and Village here in Laurel, MS. With a step back in time, your family is in for a uniquely educational experience! The homestead – which is a recreation of an 1800s settlement – spans more than 30-acres and has more than 85 buildings, display, and exhibits. When you're at Landrum's, you'll find an 1863 log house and corn crib, barn and farm animals, blacksmith shop, restored houses, village chapel, one-room school house, antique farm and tool equipment, a barber shop, watermill gristmill, and so much more!
Bonus Idea: Events at Landrum's such as Old Tyme Fall Festival, Christmas at the Homestead, and Christmas Candlelight Tours offer even more homestead excitement with fun activities for all ages!
Geocaching
If you've never been Geocaching, you and your kiddos are sure to love this modern-day treasure hunt! All you have to do is create a free log in at Geocaching.com, and you're ready for the adventure to begin. The Geocaches (the treasure) are fun to find, but more importantly, discovering them will bring you to a variety of locations. Most of the geocaches located here in Laurel correlate historical facts which are sure to spur interesting discussions with your group. These topics include information on the creation of Masonite, Olympian Ralph Boston, opera singer Leontyne Price, Martin Luther King Jr.'s March on Washington, and more! Head to Geocaching.com and search Laurel, MS to get started!
Veterans Memorial Museum
The Veterans Memorial Museum is home to thousands of artifacts, photos, vehicles, and pieces of our country's history. Many of the items on display were donated by veterans who reside in the Jones County community. Visitors to the museum will have the opportunity to discover truly unique artifacts such as a piece of the USS Arizona, which was sunk during the attack on Pearl Harbor, artifacts of the US Merchant Marine from the WWII era, a piece of support beam from a German fortification at Pointe du Hoc in Normandy, France, and so much more!
The museum, which was built on land that was part of the Laurel Army Air Base property during WWII, is open Wednesday – Friday from 10:00 am – 2:00 pm. Start planning your visit at Veterans-Memorial-Museum.org.
Lauren Rogers Museum of Art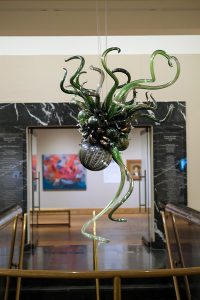 The Lauren Rogers Museum of Art is a free museum located in Laurel on beautiful Fifth Avenue. From the building itself – a Georgian Revival structure erected in 1923 – to the permanent collections and traveling exhibitions, there is an abundance of art, culture, architecture, and beauty to be found! This fall, be sure to explore two new exhibits "Bill Scott: A Garden in the Studio" and "Spirit Lines: Helen Hardin Etchings", both on display through mid-November. Museum patrons will also take in a variety of permanent collections ranging from Japanese Woodblock Prints to classic European and American art.
If one of your homeschoolers is working on an assignment on art history that requires research, they're in luck! The Lauren Rogers Museum of Art Library is a reference library of more than 10,000 volumes specializing in art history and art reference with emphasis on the Museum collections.
Bonus Idea: If you're little ones are ready for another treasure hunt, be sure to stop by the front desk of the museum to grab an artBINGO card for an interactive exploration of the exhibits.
Find out more about how to Visit Mississippi responsibly, and be sure to visit our FAQ page for the most current community and safety information.