From the long list of things to do to the delicious dining options and the fabulous shopping, we love our hometown for so many reasons! We're pretty convinced it's the best small town in America, and our local response to Covid-19 is just one more reason to add to the list of reasons to love Jones County, Mississippi. We're keeping safety a top priority, and when you're ready to travel, we're ready to welcome you!
Fewer Crowds than Cities
Residents and visitors are encouraged to follow both the Center for Disease Control and Mississippi Department of Health's guidelines, which includes practicing social distancing.
Al fresco dining is an option at spots like The Loft, PDI / Phillip's Drive In, and more. Of course, with such beautiful weather here in Mississippi (hello, mild winters!), ordering to-go and spreading out in picnic fashion at some of our parks is always an option!
Shopping, dining, and attending fabulous events are absolute must-dos when you're visiting Laurel and Jones County, MS, but don't underestimate the availability of outdoor activities while you're here! Check out our favorite ways to enjoy the Great Outdoors during your visit! When it comes to shopping, our boutiques, shops, and stores are taking precautions to ensure your safety during your visit! Retail businesses are open, but small-town shopping means smaller crowds!
Our Accommodations are Ready
Our local accommodations are ready to welcome travelers safely by redefining cleaning and safety standards. Guests' standards have undoubtedly changed, and although our accommodation providers have rigorous cleaning methods already in place, the commitment to safety provides even more confidence for travelers.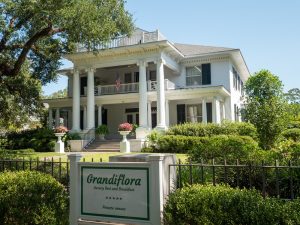 Local spots such as are open to travelers, and are committed to providing a safe environment. For example, the Grandiflora Bed and Breakfast is not only disinfecting the whole house on a regular basis, but the large rooms are separated far apart, and guests have no problem distancing from other guests. They also offer physically distanced breakfast settings.
Our name-brand hotels also have increased their cleaning standards. Hampton Inn & Suites in Laurel utilizes Hilton's CleanStay program, which gives its guests the comfort of knowing industry-leading hygiene practices are providing the cleanest – and safest experience possible.
Each of our lodging providers has its own set of cleaning standards and safety protocols, so if you're curious about specific steps being taken, we recommend you reach out to your potential hotel, bed and breakfast, AirBnB, or rental home.
For a full list of places to lay your head while you're in Jones County, be sure to check out our guide. Camping and RV lodging are also options when you're in Jones County, MS!
We will do our part to ensure all visitors can experience the joy of traveling to Mississippi. We hope you will help too when you #VisitMSResponsibly! Be sure to visit our FAQ page for the most current community and safety information.