The saying goes, 'A picture is worth a thousand words' and when you visit Laurel & Jones County, that couldn't be truer. You might come for that perfect shot, but find yourself staying for that familiar feeling we like to call 'home.' With its historic charm, small-town feel and the great outdoors, you'll be sure to snap the perfect photo just about anywhere you turn in Laurel and Jones County, Mississippi, but where are those spots that are completely Instagram-worthy? Here are a few of our favorites.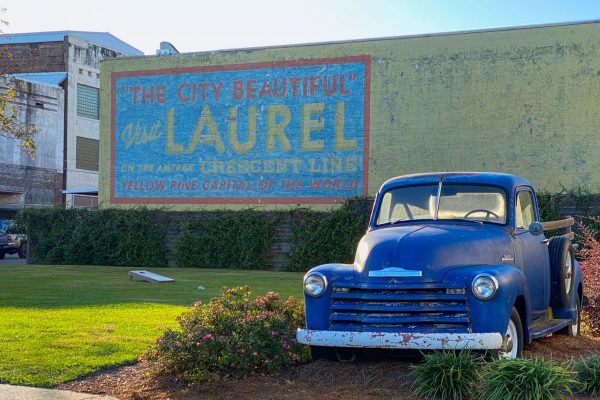 As Seen on TV
There's nothing quite like visiting a spot you've seen on the small screen – especially here in Laurel and Jones County! Pair our locals' hometown pride with the renaissance happening thanks to HGTV's Home Town, and our beauty is definitely something worth snapping a photo of! If something looks familiar to you, it's likely what you've seen on TV!
For example, you might have come across the iconic blue truck that sits outside of Laurel Mercantile Co. Since its opening in 1901, the building has served many purposes for this small town and now you can catch it as the backdrop for so many photographs as people come to visit Ben & Erin Napier's store.
If you were searching for something nostalgic, you've come to the right place.  Inside you will find the LMCo. original collection, vintage décor, and that perfect take home gift to have memories for a lifetime. Don't miss the life size Ben & Erin cut outs inside the store!
After you grab a pic and souvenir for friends back home (plus one or two for yourself), you can head over to the Scotsman's General Store & Woodshop and watch the team hard at work creating one-of-a-kind pieces for locals and visitors alike. If you are lucky you might even see Ben Napier working on his next big thing for Home Town. Now that is a moment you definitely want to catch on camera!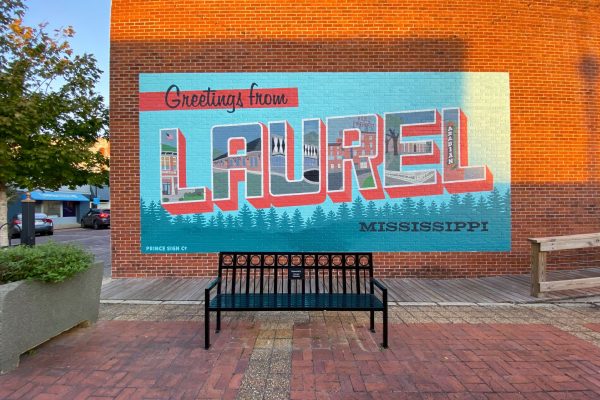 Murals, Murals, & More Murals
For true Jones County fans, our murals are instantly recognizable, so they definitely couldn't be left off the photo op list. From Ellisville to Downtown Laurel and beyond, iconic murals abound!
This one is located on Commerce Street and might be one of the town's most popular to date. The vibrant colors and creative design will surely make your photo pop! A timeless mural backdrop never makes for a bad photo.
Check out these other murals around Jones County:
Welcome to Historic Downtown Laurel – Located on Central Avenue
Laurel Looks Good on You – Located on North Sixth Avenue
Be Kind – Located on North Sixth Avenue
Greetings from Laurel – Located on Central Avenue
Loyal as a Book – Located at the Laurel Library
Everything is Gonna Be Okay – Located in Ellisville
I Believe in Laurel – Located in Maker's Alley
The City Beautiful – Located on the corner of Oak and Front Street
Welcome to Laurel Mississippi The City Beautiful (purple) – Located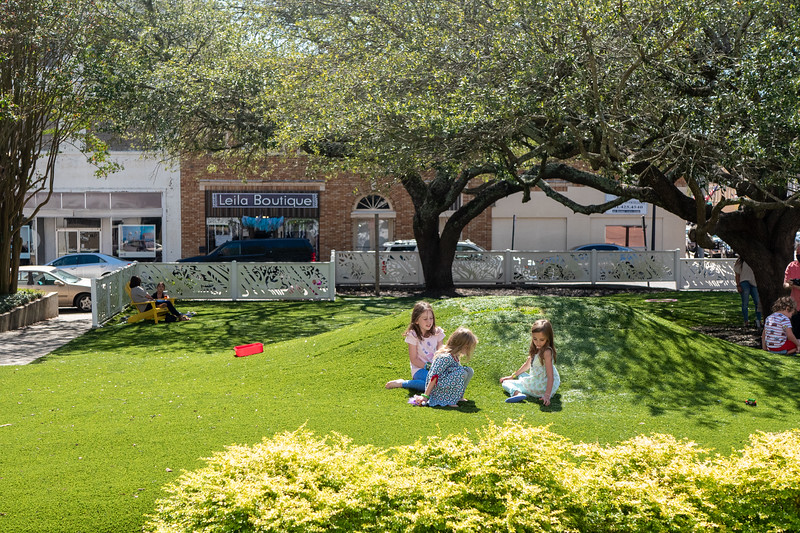 In the Great Outdoors
Looking for something a little more "natural?" Head towards downtown and visit our beautiful Trustmark Art Park. Because who doesn't love a little greenspace? With green grass all year round, there's never a bad time for a phot op! It's the ideal spot for a day with the kids or to just bask in the beautiful sunlight. You'll have the perfect lighting right at your fingertips.
Ready for something more off-the-beaten-path? Look no further than the Desoto National Forest.  With over 300,000 acres belonging to this beautiful park, the Desoto National Forest is the largest district in Mississippi. With activities such as biking, hiking, and bird watching, there are plenty of ways to keep busy and more than enough opportunities for a photo op.
Laurel and Jones County are just getting started and luckily for visitors, the appeal keeps on growing. So next time you're visiting our neck of the woods, remember to snap a photo and be sure to use #VisitLaurelJonesCounty to share with us!
Looking for even more must-see spots in Jones County? Check out these historic landmarks or this bucket list-worthy guide!