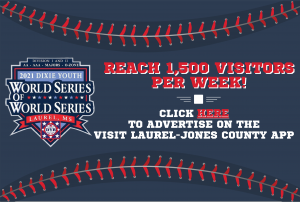 Click above to reserve space online or download the ad order form HERE.
Questions? Contact Amanda Roll, 601-335-4828 or amandar@edajones.com
The New State of Jones is a website maintained by the Jones County Chamber of Commerce and Economic Development Authority of Jones County, Mississippi. With a membership base of 300+, we support our community's business voice through advocacy, marketing, business development, partnerships and tourism.
It is our vision to work cooperatively with business and government entities to create a livable, attractive, sustainable community that affords our citizens a quality of life in which they are safe, comfortable, healthy, nurtured and financially capable of living well. Never has it been more evident with the majority of growth realized by self-made, multi-generational companies and world-class corporations who call Jones County home.
We hope you will come and visit our community and see for yourself all The New State of Jones has to offer!